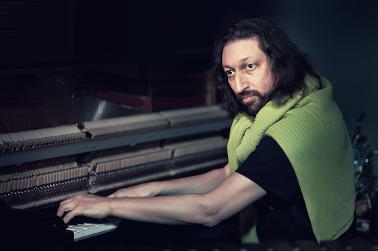 Russian composer and pianist Roman Stolyar is often called one of key figures in Russian improvised music. He has performed in 27 countries collaborating with a number of internationally renowned improvisers, including Dominic Duval, William Parker, Vinny Golya, Oliver Lake, Susan Allen, Thomas Buckner, Weasel Walter, Assif Tsahar, Martin Kuchen, Glen Hall, and many others.
His improvisational workshops have garnered him an international reputation, and have led to many invitations to create and implement workshops for organizations and universities around the world, including the University of Michigan, Mannes College NY, the California Institute of the Arts, Music Academy Basel, Chateu d'Oex Music School in Switzerland, Frescobaldi State Conservatory in Ferrara, Italy and the Versailles Conservatory, France.
He is an author of the first Russian book on teaching free improvisation. Being actively involved into theatrical activity, he has composed music for more than 35 theater shows, working with leading drama directors of Russia - Alexander Galibin, Boris Pavlovich, Veniamin Filshtinsky, Yelena Nevezhina, Larisa Alexandrova, Vera Popova, and many others. He is also an active participant of series of inclusive theater projects.
He is periodically composing on commission for various collectives of Novosibirsk State Philharmonics. Roman Stolyar is a member of Russian Composers Union and International Association of Schools of Jazz and an Advisory Board member of the International Society for Improvised Music.
He met JOPO & Ingeborg Poffet 2019 at the EUROPEAN INTUITIV MUSIC CONFERENCE in Poland & Berlin, playing concerts with them since.
Books published:
- Modern Improvisation: A Practical Guide for Piano (2010);
- Jazz: Introduction To The Stylistics (2015);
- The Magic Book of an Improvising Pianist (2019);
- Between Canon and Freedom. Western Improvised Music of the Second Half of 20th Century (2021)
Discography:
- Roman Stolyar - SAVJEST, TO FOLLOW (2022, Bomba Piter)
- Roman Stolyar, Andrey Razin - BALLET SCENES FOR TWO PIANOS (2021, Bomba Piter)
- Michaela Steinhauer, Alexey Kruglov, Roman Stolyar – CHANGES & CHOICES (2021, independent
release)
- Roman Stolyar & Hung Mung - Adversity Yields Flair (2020, Discordian)
- Nick Rubanov, Alexander Ragazanov, Roman Stolyar – RURARO (2020, Bomba Piter)
- Raphael Sudan & Roman Stolyar – RESTLESS (2017, Ermatell)
- Michaela Steinhauer, Alexey Kruglov, Roman Stolyar – TALKS AROUND MIDNIGHT (2016, Fancy
Music)
- VocColors Quartet, Alexey Kruglov, Roman Stolyar, Andrey Razin, Oleg Yudanov – RUSSIAN
AFFAIRS (2016, ArtBeat)
- Roman Stolyar, Alexye Nadzharov, Alexei Chichilin – NACHISTO ( 2016, Creative Sources)
- Roman Stolyar – THE BOSTON CASE (2014, Fancy Music)
- Alexey Kruglov, Roman Stolyar – STRUCTURE 54 (2014, Fancy Music)
- Roman Stolyar, Vladimir Luchansky – DUETS (2013, Fancy Music)
- Roman Stolyar, Ed Sarath - AMAZING BLUE (2012, Ermatell)
- Roman Stolyar, Susan Allen — TOGETHER (2011, independent release)
- Roman Stolyar, Dominic Duval — PARK WEST SUITE (2011, Cadence Jazz)
- Roman Stolyar, Alexey Lapin — DOUBLE SONATA (2011, SoLyd)
- Sergey Mikhaylenko & XYZ Quartet — TRUMP CARD (2011, Ermatell/Jazzosophia)
- Lenny Sendersky, Roman Stolyar — EXTREME POINTS (2010, NewFolder2)
- Roman Stolyar — MISSA APOCRYPH (2010, Electroshock)
- Ilia Belorukov, Roman Stolyar, Andrey Popovsky, Alexander Funtikov — DOTS & LINES (2007,
Ermatell)
- New Generation Quartet — DANCES (2007, Ayler)
- Susan Allen, Roman Stolyar, Sergey Belichenko — TRIALOG (2005, Ermatell)
- Roman Stolyar — STRAIGHT AND STRANGE (2003, Ermatell)
- Roman Stolyar — CREDO (2003, Electroshock)
- Denmark's Intuitive Music Conference — SOUND SCAPES (2002, Ermatell)
-New Generation Quartet — JOURNAL OF JAZZ IMMUNOLOGY (1996, Ermatell)