JOPO
saxes, bcl, cl, voc, elec, perc
Ingeborg Poffet
acco, v-acco, p, voc, elec, perc
left: world-jazz-project 2018:
avantgarde
improvisations
world-music-projects
concepts
compositions
network improvisation
international meetings
collaborations
multi-media-projects
performances
Duo Fatale
-

the World-Jazz-Project
......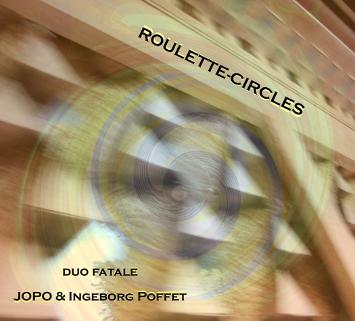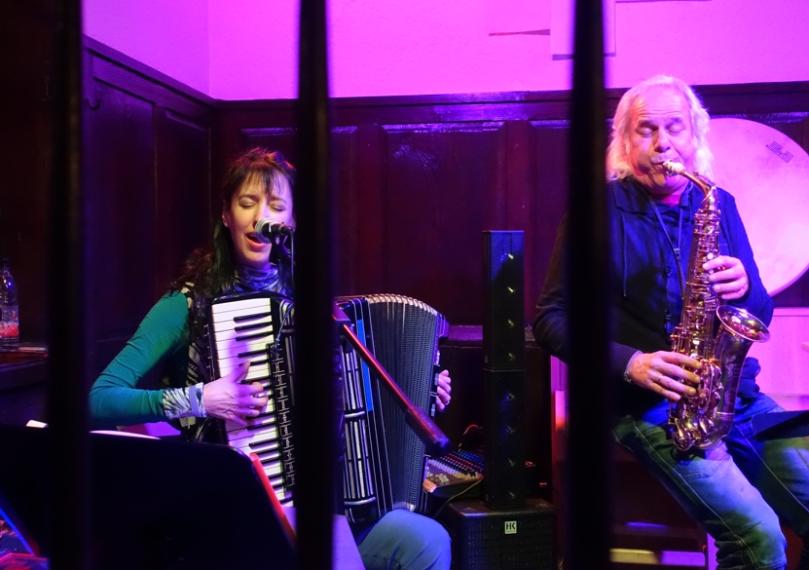 (photo by J.C. Rohner, march 2016)
The saxophone- and bassclarinet-player JOPO and his wife, the accordeon-player and vocalist Ingeborg Poffet, founded Duo fatale in 1989. Both are composers, living in Basel. Souldrifting-music they call their own style, that lives from their own compositions and the improvisation as a main subsitute. Their music shows a modern accordeon, that doesn't climb to common stereotypes like tango or musette, but in a contemporary and risky way it leads the dialog with the saxophon to an orchestral sound. The vocal work of the Duo touches the Avantgarde as well as ethnological deapness.
In most programs they include electronicals.
sept. 2017:
OUT NOW
double-CD
XOPF-Records Nr. 052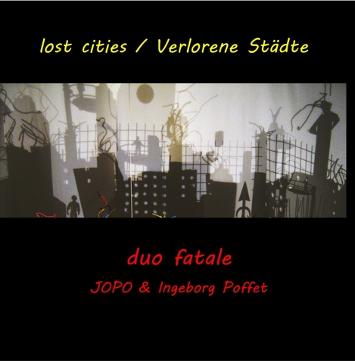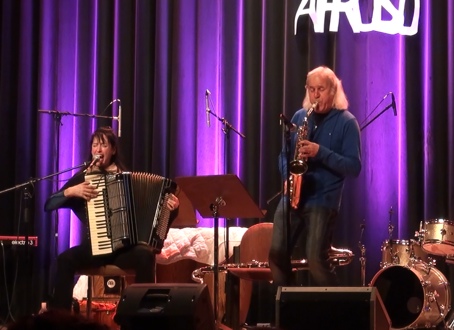 photo @ afrosu-festival, Basel 2014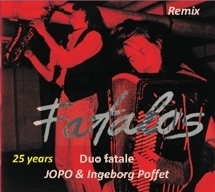 "The Duo travels dangerously in a nowhereland of style, even if there may be brief glimpses of a tango, twelve-tone music, an oriental flair or free jazz. Improvised music continues as the common denominator." (Wolfgang Dichans, Keyboard)
------------------------------------------------------------------
"The dialogue here produces a very straight-forward impression. Action and reaction follow eachother closely. This Duo has one nifty characteristic: after long moments of atmospheric free-play, both melancholy and burlesque, all of sudden it will start to play a theme in synchronical recitation, only to leave it again instantly, in order to follow new paths of freely chosen music. The dialogue between Poffet & Poffet was one of the most daring and lively events to be heard at the "Kaserne" this weekend."(Christian Fink about the XOPF-Festival, Basler Zeitung)
------------------------------------------------------------------
"JOPO & Ingeborg Poffet gare an impressive performance both of their differenciated and precise mastery of their instruments and their original and eccentric blending of sounds. Most extraordinary though were the the voice passages, in which they employed their own bodies as resonators, exhausting them to the last. Envoking associations of western and eastern medieval liturgical music they carried the listener into other wordly spheres... a spectacle made especially by Ingeborg Poffet-Berscheid, by her powerful use of voice and body and her exceeding charisma. She suggests the notion, that we allow ourselves to be affected most of all, when our own body and voice become the immediate instrument." (Felicitas Leibundgut, Thurgauer Tagblatt)