House-Orchestra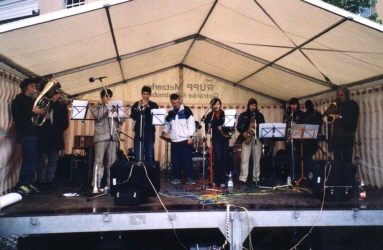 das Musikprojekt der Musikwerkstatt Basel
für Jugendliche
Leitung JOPO und Roberto Dos Santos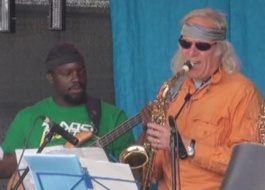 Nach dem erfolgreichen ersten Auftritt des HOUSE ORCHESTRA (zwischendurch genannt: Halbtagx in the House) am Eröffnungsfest der Musikwerkstatt Basel im neuen Domizil im Bürgerlichen Waisenhaus, wünschten sich alle Beteiligten eine Weiterführung des Projekts.
Unter der Leitung von Roberto dos Santos (Bass & Schlagzeug) und JOPO (Saxophon, Keyboard) erarbeiten die Jugendlichen in jeweils ca. 20 zweistündigen Proben ein Repertoire. Dieses umfasst bekannte Songs aus den Bereichen Film, Rock, Pop und Ethno.
Das Jahr 2000 war für die "House-Band" ein arbeitsintensives, erfolgreiches und bewegtes Jahr. Bei seinen Auftritten im "Jungen Theater Basel", am "Jugendkulturfestival Regio 2000, am "Münsterfest" in Basel, am AGS-Fest der Allgemeinen Gewerbeschule Basel und Ende Jahr an der Sylvesterfeier der Handelsschule KV Basel konnte unser Jugend-Ensemble sein beachtliches Können unter Beweis stellen.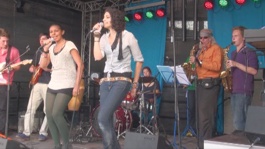 Seitdem spielte die Formation
2001 am Asylfest im Lindenhof, Basel
2001 am Musikwerkstattfest im Sudhaus, Basel
2002 am 1. Mai-Fest am Barfüsserplatz mit den Hot Horns aus Freiburg;
2002 beim Informations-Fest für Brückenangebote in Basel;
2002 am Jugendkulturfestival auf der Hauptbühne am Barfüsserplatz
2003 auf der Offenen Bühne in Weil, Deutschland
2004 am Hirscheneck Jubiläum und bei der Einweihung des Jugendhauses auf dem Leuenberg
2005 im Zwinglihaus Basel und im Schulhaus Kirchmatt Birsfelden
2006 im Union Basel, 1. Mai-Fest am Barfüsserplatz Basel, Tag des Flüchtlings (reformierte Kirchgemeinde) Reinach, 20 Jahre Musikwerkstatt Basel-Festival (Union, Projekt: Principles)
2009 am 1. Mai-Fest, Theodorskirchplatz, Basel und am Jubiläum: 10-Jahre-Musikwerkstatt Basel im Waisenhausareal, Basel
2010 im Mai: Privatanlass, Basel; im Juni: Karthäusersaal, Waisenhausareal, Basel und im Thomas Platter-Schulhaus/Wettsteinschulhaus, Basel,
Konzerte 2012:
27.01.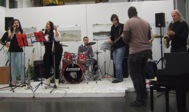 House-Orchestra, Leitung JOPO & Roberto DosSantos, an der sax-party mit Schülern von JOPO saxophone, Schülern von Ingeborg Poffet accordeon, @ Musikwerkstatt Basel, Horst 19:00 h
29.05.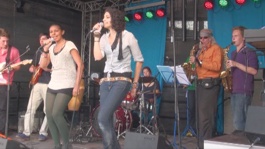 Shirley, Delayah & the Lychees, Leitung JOPO & Roberto DosSantos, Fest der Kulturen, Rheinfelden, 17 h
Der Erlös aus den Konzerten fliesst jeweils in die Projekt-Kasse.
Kontakt
Poffet & Poffet music-production
JOPO & Ingeborg Poffet
Güterstr. 213. CH-4053 Basel
Fax/Telefon: 061 361 56 70
mail poffet-poffet at bluewin.ch