Theatre-Music-Project "Bericht eines Schiffbrüchigen", by G.G. Marquez, with Serena Wey, actress;
composition 1989 for quartet by and with Duo fatale
Bericht eines Schiffbrüchigen
von Gabriel Garcia Marquez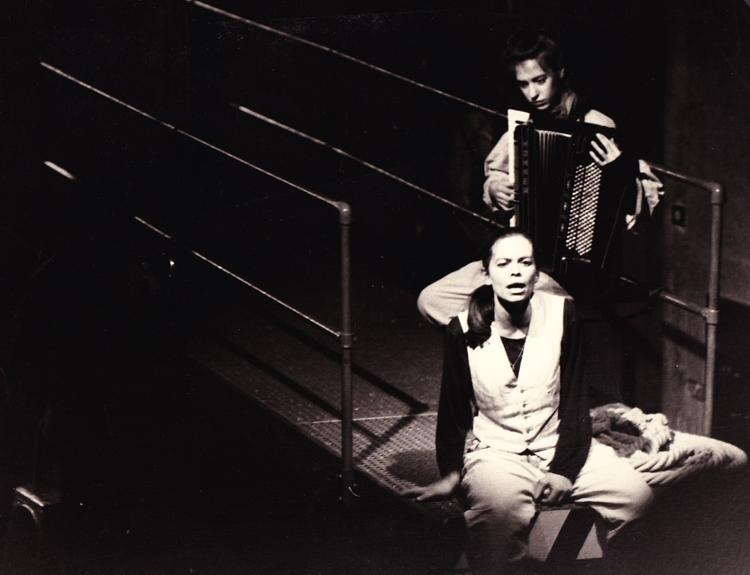 Reload 2018/2019:
Theatre-Music-Project "Bericht eines Schiffbrüchigen", by G.G. Marquez, with Serena Wey, actress; original composition for quartet (as, bcl, cl, acco, tb, dr), by and with Duo fatale;
new compositions and re-arranged for trio: as, bcl, tb, e-acco, by & with Duo fatale & Andi Marti tb
Serena Wey, Schauspielerin
JOPO: Bassklarinette/ Komposition,
Ingeborg Poffet: Accordeon/ Komposition,
Andreas Marti: Trombone,
Heini Dalcher: Bühne,
Annegret Dürig: Kostüm
Wir nehmen traurig Abschied von Jörg Schröder, mit dem wir als Gastschauspieler die Premieren im Dezember 2018 vorführen durften. Leb wohl.
Ein Theater/ Musikprojekt nach einer wahren Geschichte, über die Gabriel Garcia Marquez, damals Journalist in Bogotá, eine Reportage schrieb. Ein Seemann, der zehn Tage lang ohne zu essen und zu trinken auf einem Floss trieb, der zum Helden des Vaterlandes ausgerufen, von Schönheitsköniginnen geküsst, durch Werbung reich, gleich darauf durch die Regierung verwünscht und dann für immer vergessen wurde.
Vor 29 Jahren, am 13. Dezember 1989, hatten wir die Premiere mit dieser Produktion in der Reithalle der Kaserne Basel und anschliessenden weiteren 34 Aufführungen in der gesamten Deutschschweiz.
Wir freuen uns, diesen spannenden Abend -nach so vielen Jahren- in nahezu Originalbesetzung in der Theater Garage zu zeigen.
PREMIERE:
14. Dezember 2018 - 20:00 sold out
15. Dezember 2018 - 20:00 sold out

THEATER GARAGE, Bärenfelserstr. 20 / Hinterhaus, 4057 Basel