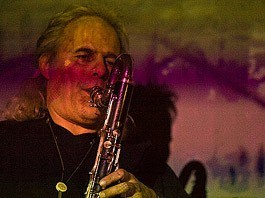 (photo ©sg ko ezle/jazzfoto.net)
contact:
Poffet & Poffet music-production,
JOPO & Ingeborg Poffet,
Güterstr. 213, CH-4053 Basel
Tel & Fax: 0041 / 61 / 361 56 70,
e-mail: poffet-poffet at bluewin.ch
altosax, bassclarinet, voice, electronics, composition
list releases JOPO * multi-media-projects * film-music * compositions
JOPO altosax, bassclarinet, voice, composition, began to play the bass-guitar in various blues, jazz and rock bands. At the age of 19 he started to learn the altosax, which has become his main instrument (learning by Ch. Baader, Swiss Jazz School A.Scherrer) and later the bassclarinet (since 1981), playing jazz on both of these instruments. Since 1975 he's been playing with extraordinary formations and projects, always as a leader or at least with own compositions. He has given concerts with David Moss, Mani Neumeier, Peter Warren, Doug Hammond, John King and others.
He creates compositions of contemporary music as well as jazz, ethno, vocal-music and instrumental music, he composes for solo, small formations up to orchestra, musical-scenically and multi-media works, sound-concepts/installations, theatre- and film-music, performances and mini-musicals.
The full list can be seen here on www.POFFETmusic.ch.
The german AUGEMUS Musikverlag has published the sheets of the program Indian Book von JOPO und Ingeborg Poffet.
He hast played as soloist at the Klangkörper Schweiz Expo2000 Hannover, as special guest for the Eric-Dolphy-Projekt of the Forchestra Freiburg and for the Peter Kleindienst Trio, as well as filmmusic and studiorecordings by D. Dettwiler/R. Schneider.
Since 1983 he teaches saxophone, leads workshops and since 2000 he is leading the "House-Orchestra" together with Roberto dos Santos at the Musikwerkstatt Basel, where he is responsible for growing up and business as associate.
He is busy in different cultural-political activities such as president of XOPF-Verein X.I.E.A.M.S. (Label XOPF-Records), organisation und partizipation of the int. XOPF-festivals Basel, delegate of the single-members Swissperform, 1995-97 president and member of the executive board MKS (MusikerInnen Kooperative Schweiz, nowadays SMS - Swiss Music Syndicate).
He has won different prices (Kunstkredit Basel, Alexander-Clavel-Stiftung, composer-competition Syntharp 2010/2011).
He has released numerous projects like CDs, DVDs, sheets and booklets.
With his wife Ingeborg Poffet (accordion, voice, composition) he has founded the group Duo fatale in 1989. In their exciting formation they have achieved a symbiosis of composition, interpretation and improvisation. Based in Basel, Switzerland, they both compose the music for all their groups and for command works such as theatre-or filmmusic or multi-media performances. They have frequently worked together with local musicians on their tours across the world. Tours in USA, Europe, Asia and Africa with participations at int. festivals. With Duo fatale meets international guests the formation meets local musicians from the Avantgarde, Ethno, Classic, Jazz or Rock all over the world.
They did many int. radio- and tv-productions (Izmir-Turkey, Bologna-Italy, SWF-Germany, DRS-Switzerland, Moscow-Russia, Sevilla-Spane, Bandung-Indonesia, Jazz Swissmade, Bremerhaven, Odessa-Ukraine and others).
former formations / orchestra-projects / projects with handicaped persons:
Agasul plus, City/6/tett, Trio fatale vision, Duo fatale meets percussion, KABA-QuARTett,
MKS-Vernetzungs-Orchester, Sound-Export mit dem Mega-Ram-Orchester, Klangcollagen, Frontières..., Trio Marguerite, Erst jenseits der Kastanien ist die Welt, Fresh'nDJ, wood'nt, Marguerite-QuARTett, 4hoch3, femme fatale, El JIM V., Aisha Fatalisha, Remmi Demmi im Universum, JAISH, Geschichten, Public Force Trio, music-video-Art-project: Ghosttown (2007),
music-video-Art-project: cryptochronics (2009), music-video-Art-project: opsonization (2010) ,
Sofa-Resonanzsprung-Gang (2013) Orchestra-Project with the members of the FIM-Festival (from CH, D, F), music-video-Art-project: inSection (2013)
current formations/projects:
Duo fatale, Duo fatale meets international guests,
Indian Book.Duo, Indian Book.Trio,
music-video-Art-project: opsonization (seit 2010) ,
gemein - mean: Musikkrimis mit Duo fatale (seit 2011), SPA: SaxPerAcco (seit 2012),
music-video-Art-project: lost cities / Verlorene Städte (seit 2017),
Roulette-Circles, the World-Jazz-Project (seit 2018), Bericht eines Schiffbrüchigen (seit 2018),
fatale naked (seit 2019)
Int. Festivals:
Leipziger Jazzfest mb, int.Jazzfestival Bologna, int. Jazzfestival Tallinn – Estonia, Int. Jazzfestival Vilnius – Lithuania, Int. Jazzfestival Cheboksary – Russia, 1., 2. & 3. int. XOPF-Festival, Basel ('90, '93, '97), Sevilla Expo '92, Off Beat Festival – Basel, Bilsak-Festival – Istanbul, Interjazz-Festival Leningrad, 12. Jazzfestival Grenoble – France, 16.int.Vasaras Ritmi Riga – Latvia, Off lines two – Freiburg, Fiesta int. inc. Pärnu – Estonia, int.Jazzfestival Münster, JakJazzfestival'93 Jakarta – Indonesia, Klang-Raum-Festival Stuttgart, Int.Festival of Arts '94 Singapore, 6.int.Musikfestival Khartoum, Sudan, AuaU-Festival CH, Jazzfestival Schaffhausen ('92, '95), 2.Tonkünstlerfest St.Moritz, Jazz à Mulhouse, Musikfestwochen Winterthur (1999, 2000), Imagine 2003, 2days&2nights – Festival für Neue Musik Odessa, Ukraine, 4.Tonkünstlerfest Baar/Zug – CH, Festival der Pflanzen – Basel/CH, 7. & 9. & 10. int.festival "Roaring Hoofs" Mongolia (2005 & 2006); Panse-Gharana-Festival, Bombay India(1998, 2005, 2006), STIMMEN-Festival 2005; Wildwuchs 2001, 2004, 2007, 2009, 14. Jazzmeile Thüringen; cec 2009 Sattal Estate, India; Cracking Bamboo 2010, festival for new music in Vietnam and Indonesia; BuchBasel2012, Clair Obscur Filmfestival 2012; endweek34plus:int. FIM-Festival 2013, festival PERFORM NOW! #3 Winterthur, CH, festival: afrosu event Basel 2014, eco.festival Basel 2014, GONGS & SKINS festival Myanmar 2015; Bookaroo, India 2016 (childrens literature festival of India); Terracotta Mela, India 2016 POT Maya, India 2016; 22nd KIFF 2016 (closing ceremony of Kolkatta int. film-festival); Baul Fakiri Utsav, India 2016; Sunderbans Folk Festival 2017; Bhawaia Utsav, Cooch Behar 2018; North Bengal Festival, Cooch Behar 2018; Margao Lokotsav-Festival 2018; Bengal-Goa Folk Mela 2018
concerts / int. festivals / performances & meetings with local musicians in:
Denmark, Egypt, Estonia, France, Germany, Great Britian, India, Indonesia, Italy, Lanzarote,Latvia, Lithuania, Malaysia, Morocco, Mongolia, Myanmar, Poland, Russia, Senegal, Serbia, Singapore, Spain, Sudan, Switzerland, Turkey, Ukraine, USA, Vietnam;